I first learned about this helpful savings tip from a co-worker who had set-up a baby registry at Target.
After her baby was born, she told me that she was going to purchase some of the items that were left unpurchased on her baby registry at 15% off because Target had sent a "completion coupon". This coupon entitles registrars the ability to buy anything left on their registries online or in-store.
I thought this was a great deal – especially since many of the items on the lists are things a person may need.




How to get the 15% off at Target
Of course with any deals like this there are restrictions and fine print. Let's flush those out a bit:
Taken from the completion coupon page:
When you create a Baby, Wedding or College registry with Target, we offer a 15% off completion coupon for the items remaining on your registry (some exclusions apply).
We'll send an email notification when your coupons are available to print. You can also access your coupons by signing into your registry and selecting get your completion coupon. Please note that your registry needs to be active for at least 14 days before your completion coupon will be generated.
So, you'll need to have the registry live for least 14 days before you can receive the 15% off coupon.
Also note the rules differ on various registries:
Baby
You'll receive your coupon eight weeks before your event date, valid for one order on Target.com and one transaction at a Target store.
College
You'll receive your coupon two weeks before your start date, valid for one online order which expires six months after your start date.
Wedding
You'll receive your coupon the week of your event date, valid for one order on Target.com and one transaction at a Target store.
To get even more savings at Target, use this coupon with your 5% REDcard.
To get more details on the completion coupon at Target.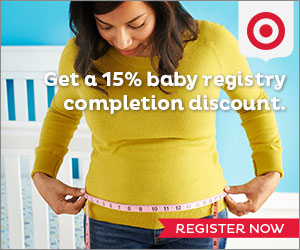 Have you heard about OR taken advantage of this extra savings at Target before?
TTG may receive some compensation from Target if you make a purchase via the above banner, at no cost to you.
You might also be interested in: